Have you ever went shopping, walking aimlessly up and down the aisles of the store, searching for the best planner and you come out either empty handed or the planners out there only have bits and pieces you actually like. If only you could take those pieces and melt them together. A constant struggle of what I used to have every time school shopping was within this season. Until now…
Searching forums, blogs, Pinterest, top 10 lists, I finally found the best planner anyone will ever need, and that's the Passion Planner. Created for like minded people who are driven to complete goals, this perfect organizer, literally organizes your whole entire life. Read on to find out the specs on why this planner is so perfect.

Hi my name is the Passion Planner
Created by Angelia Trinidad, in 2013 she struggled with what every student was worried about, and thats life post grad. The anxiety of what comes next after years of school, stepping away from the comfort zone of this routine you've perfectly set up from years of schooling to the "real world." Applying her overachieving characteristics from school towards a business that will help other people have a system to know where their life is headed, creates a map, for anyone scared of the future at least visually can work on goals to achieve their dreams.
For three years I've been using this planner because it really works for me. I actually just bought another one to add to my collection. I know I'm not a post grad student, just a busy hairstylist who needs to organize life and business to maintain sanity. I've planned multiple international trips, buying a home, and getting married, all by using it exactly to a T.

How to use your Passion Planner:
First things First create your "Passion Roadmap"

A couple pages in you'll find the Roadmap, you take 5 minutes to jot down everything you'd like to accomplish. It's a personal wish list that can be as realistic or bizarre as you want.
Since I'm a neat freak I like to jot down on a piece of paper first to organize my thoughts, then transfer over to the bubble map.
You can put down career goals, future family life, where you'd like to travel, financial freedom, etc.

Here's the "Gamechanger"

To use this organizer to the best of it's abilities, now that you have your Passion Roadmap you can plan out specific things you want to achieve from it by scheduling it out in smaller bubble maps called a "Gamechanger."
For instance, planning your monthly page, flip back to your Roadmap and work with what time frame you want it done by.
The idea is to break down big goals into small goals to get to the BIG GOALS.
I work better using specific dates and deadlines so I usually just write it out on the day and specific time frame on the weekly page.

Master the Art of Colorful Writing

I'm a very visual person and what helps me is to take these colors I use from various writing utensils to create a key. Whether it's icons or certain colors I use, each thing signifies a certain action. Here are some of the tools I use for my key.

 Highlighters – draws attention to an important need or, a personal appointment. I like using this for the weekly section.
Crayola Markers – dating bills, holidays, birthdays, any certain special occasions, I use these markers that are thin enough and yet still bold in texture, on my monthly page.
Profile Pens – for side notes, game changers, these easy guidable pens pulls through for me on cursive penmanship.
Papermate Flair M – within the weekly section on specific times, I use this to mark what I'm doing within those time slots.
Crayola Pencils – I color the area of time that needs to be blocked out, so that it's known that I need to specify my time and energy on that one piece. This creates a time frame on priorities.

Stick it to Me

Stickers are fun to dress up the page. Stupid cats meowing or lil' kawaii sushi dancing around, draws attention to your eye on what needs to be done, or just looking at cute stuff makes you happy, than so be it.

Washi Tape

I use this for dividers or borders. It creates a space for lists, tallying, grids, etc. Whatever you feel that is urgent that needs to get done within your priority list.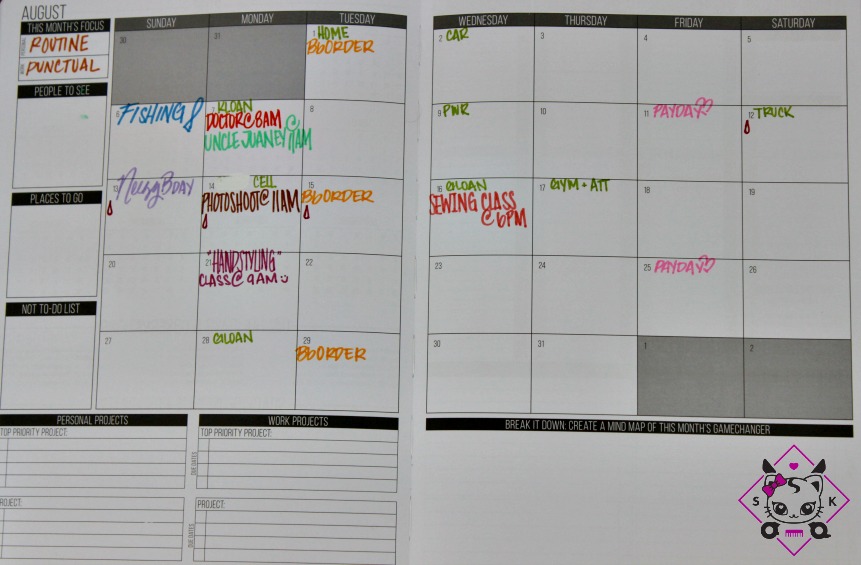 Extra! Extra! Write all about it!
Here's some more key features that I love about this planner.
"Monthly Reflection"

After each month, like a journal, you just take what's happened and really contemplate what you've accomplished or haven't, and what you could do better.
Sometimes you get distraught after you're so involved buying a new planner making ti pretty then nothing gets done. I love this part because it shows how you can wipe off that bad energy and really go into the next month with a clean slate.

"Side Projects"

Located on the left hand side of the weekly page, there's a grid that has a list for your Personal Projects and Work Projects. I like using it to divide the areas of my life that need balance. Again coming from my Passion Roadmap, I get to work on projects such as making time for family, praying, blog marketing, and so on.
Within the week dates post the project you'd like it to be accomplished by.

Grids & Blank Paper

In the back you can use it like a bullet journal and write down Bucket Lists, Work Out Plans, Movies to Watch, and so on. Endless amount of space for you to use for the whole year.

Planning Your Dreams
I ordered the "Sunrise Gold" 8.5″x 11″ Academic Planner '17 – '18 costs $35
If you can't tell from the pictures, it has a beautiful shimmery outside soft cover, with a detailed embossed pendant in front. They all come with a green bookmark that my cats go crazy after.
I'm absolutely obsessed with this planner. For someone who is super goal driven and needs help balancing their life, I highly recommend the Passion Planner. I honestly believe that this is the best planner you'll ever need!

For checking up on what goals I'm accomplishing,
follow me on my instagram platforms
@katastrophe416 for personal use
Here's some other blogs you might be into:
SaveSave
SaveSave
SaveSave