I never stop trying to inspire myself, and at the brink of expiration now is the time to take the reigns and take control of my life. (Again, with the whole adulting thing.) Eventually coming out of the ideology of prancing around with cat ears, fun loving and free, can get old, and common sense kicks in that I don't have a 401k or what's my 20 year plan?
Well, thankfully some influential people who have their mind set on things, wrote these books that have changed my way of thinking, and now growing up isn't too bad. Read on to read 3 Summer Reading Books for Adulting.
"Yes, I could have made some different choices in life but I did what I did, both good and bad and I am not who I was, I have moved on, it's all part of growing up."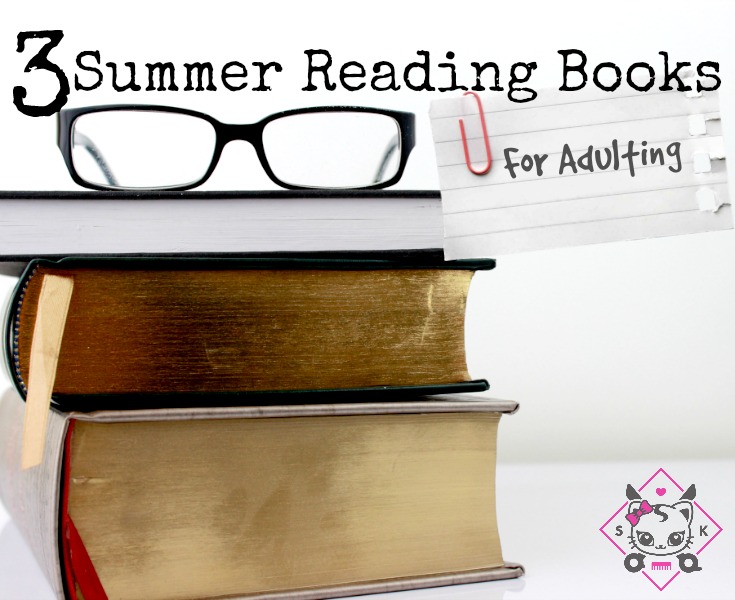 The Secret by Rhoda Byrne
A world renown book that has been adapted into a feature film, was suggested to me years ago by a friend in college who taught me about the "law of attraction." In a nutshell, the law of attraction is whatever you think, you manifest. As general as that sounds, there's so much more to it of course.
The Secret reaches every part of your life, money, love, self confidence etc. The idea that you can control here and now and the future, by manipulating your thoughts of what you want to appear in your life. This concept has been used for hundreds of years, from important figures in history like Abraham Lincoln and Einstein. This just proves how much this theory works.
Lost in what I wanted to do in college I needed a way to get out, but with so many ideas running through my head, I didn't know which path to take. Finally, I picked up this book that was what I needed, and who knows, God/ the Universe was actually listening.
I learned several tips on creating habits of taking negative thoughts and turning them into positive ones, a great trick that manipulates the mind. It keeps you focus on your goals, and again keeping good thoughts so that you can manifest yours dreams. It's worked for me countless of times, and to this day I still continue to use it.
I know it sounds ridiculous, like its some sort of magic lamp, but honestly it's a lot of mind power controlled by only you. When reading this book, keep an open mind and soak up as much information as possible. Believe, and give it a shot, what's the worse that can happen? Your in the same place you were before the book? Only you are keeping yourself from your dreams.
"Never let a day pass without looking for the good, feeling the good within you, praising, appreciating, blessing and being grateful. Make it your life commitment, and you will stand in utter awe of what happens in your life."
Rhonda Byrne
The Magnolia Story by Chip and Joanna Gaines, Mark Dagostino
A book made of love from love, with the famous HGTV "Fixer Upper" couple Chip and Joanna Gaines. Known for their empire in Waco, Texas, the Magnolia business was born and there to stay. This book is their amazing story of how they met and how they begun this journey from a small lawn company, to a popular house hold favorite show on the Home and Garden Network.
I discovered them while flipping through channels, and I saw this Christian couple horsing around that are polar opposites. One is shy and disciplined, while the other is outgoing and wild. (sound familiar;) The dynamic between them working as a team, ripping down houses while bringing them back up with this farmhouse rustic theme, was so beautiful. Coming from two different spectrums of life, then working together, while priority number one is their family, why wouldn't I make Gary watch this with me.
I actually bought the audio book which is great on long drives, and in 2 days, I could not stop listening to it. I think I drove just to listen to it. Listening narrate their life, coming from humble beginnings and incorporating the devotion of God, was such a blessing to hear. Especially, with the crazy mishaps they've been through in their life, really mimics Gary and I'd personal growth together now.
I truly enjoyed it. I recommend for the couples who just got married. It's perfect for newlyweds finding their place within their team.
"Don't quit, and don't give up. The reward is just around the corner, And in times of doubt or times of joy,listen for that still, small voice. Know that God has been there from the beginning- and He will be there until… The End"
Chip and Joanna Gaines
Total Money Makeover by Dave Ramsey
SO, you're out of school, in debt with loans, credit cards, and possibly a house, what do you do because it seems like an ever lasting sinking ship. Here's the answer – Buy this book!
Even with growing up with frugal parents, I still took in so much information from this book.
Total Money Makeover was created for anyone struggling in the financial department. It alleviates the pain of figuring out a game plan to pay off debt. Dave Ramsey, is known not only for this number one best seller but as well as his radio show, where he gives people financial advice for peace of mind.
Years ago I was working countless hours at the salon trying to build and at the restaurant waiting tables trying to make a living. Putting in the time to wonder at the end of the year when tax season hits, where the heck did my money go?
I was sick of it, so I googled the best book to solve my money problems and behold, this 5 star easy read popped up. I could not put it down, and after reading it, I feel so confident in where I'm investing my money as well as how much debt I've already paid off. After reading you'll know soon enough of getting into the Ramsey vocal of "gazelle intensity," taking the "baby steps," and working at the "snowball" affect.
A go to book for anyone looking for financial peace.
"We buy things we don't need, with money we don't have, to impress people we don't like."
Dave Ramsey
Poolside Reading
There you have it, the reading list you need for this summer. You may think we're reaching the end soon of our sunny vacation days, but you definitely will find out these are all reads that go by super fast. Not because your skimming through it either. Adulting needn't be a pain of growing up, it should be the personal freedom to be what we want to be. Do check out these books, if not through these amazon links, than check out your local library.
If you're in the mood for more inspiration check out these other Blogs:
SaveSave
SaveSave
SaveSave