This August is going to Save the Day,While you Sleep, no-really! Ending the summer on a good note doesn't include making it alive from festival season. With dry ends in sight, it's time to relieve your hair with Bumble and Bumble's new deep conditioning and leave in treatment. Heading to bed makes it so much easier.
Just recently, the New York based hair brand, Bumble and Bumble, discontinued their famous Quenching Masque, for a product that's more client friendly. Now a days, life takes over and the last thing you want to think about is heading into the shower and waiting 20 minutes from your conditioning mask to work. If you're like me, who's also trying to hold their life together, the last thing I want to do is wash my hair, put on my treatment, and then blowdry all before bed. I come home late, I'm tired, I just want to head to bed, just like everyone else.
Introducing "While You Sleep"
If you're familiar with the Bb Hairdresser's Invisible Oil Balm-to-Oil Pre Shampoo Masque, you  would know how incredibly easy this is. Just like this Masque, "While You Sleep" Overnight Damage Repair Masque, was invented to be the cure for all the lazies out there, like me, who find every excuse not to do a deep conditioner. I feel so guilty saying that when I'm the stylist trying to convince my clients to do one at least once a month, and that's a stretch.
Used for every hair type, this quick application leaves you with nourished ends, repairs damage, as well as decreases breakage and makes the hair look feel healthy, all rapidly changing your hair overnight.  For anyone who has unnourished dry hair, this may be the treatment for you.
Directions
To apply, I'd suggest for shoulder length medium density hair to try 1/2 a Tablespoon in your hands and rake through the mid shaft of your hair and comb through. For deep nourishment leave on overnight, then shampoo and condition. For a quickie, leave on for 20 minutes for a fast boost of antioxidants, then continue to shampoo and condition.
When the launch kit fell on our laps at the salon, many of us tested it on our own hair and dramatically, rave reviews hit the salon floor. Many of the stylists agreeing that within just one night, their fried ends have become this silky touchable texture. Truly incredible to know how fast it's changed their texture.
Buddy System with "Save the Day"
Within this line there are two products, one being While you Sleep, and it's sister, "Save the Day" Day to Night Repair. Wake up to the AM by following up your treatment with some essential oils. Rich in antioxidants, this light weight repair fluid, is multi beneficial, replenishing the nutrients in your hair while calming frizz while protecting it from heat and UV damage.
Directions
The morning after shampooing and conditioning out Bb While You Sleep, follow up with towel dried hair, a pump of Save the Day. I recommend for fine short hair to start with half a pump. Work it through the mids of your hair to the end, not to concentrate any product straight on your roots. Then comb through then air-dry or blow-dry.
Ultra lightweight, the oil completely melts into the hair leaving you with healthy looking hair that feels good as well.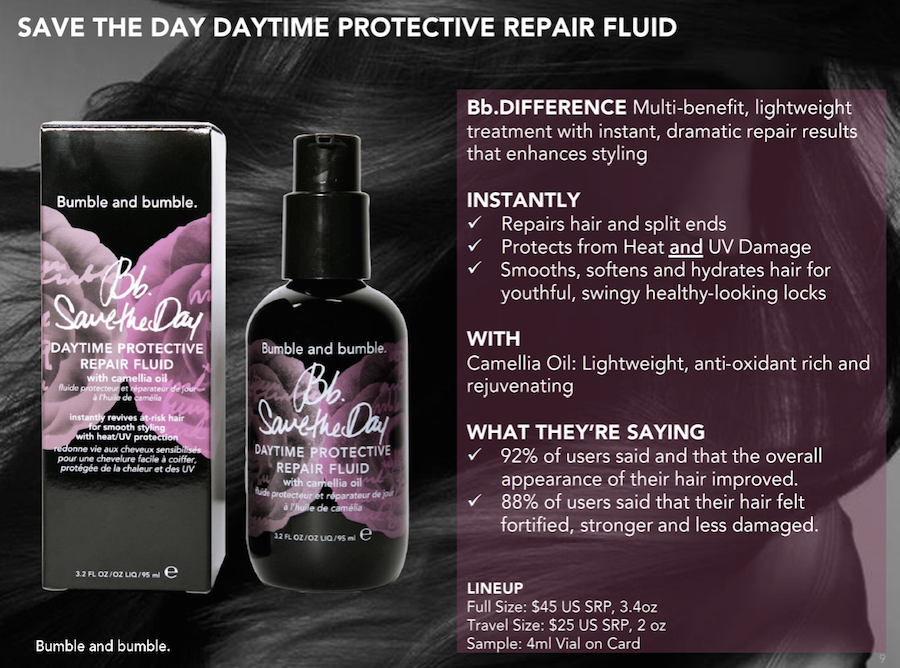 Ca-mel-lia (noun) Oil
Originated in China, this oil is extracted from the seed of the plant "Camellia Oleifera," and is also known as "tea seed oil," not to be confused for "tea tree oil." Besides the multiple holistic properties that this oil has, among them to help joint inflammation, blood pressure, and cholesterol, for cosmetic uses it helps to restore and rejuvenate the hair.
Within the technology that Bumble has designed, along with Camellia Oil and Omega 6 fatty acids, Save the Day and While you Sleep, help repair  your split ends.
Hands Down
When I heard about Save the Day and While you Sleep, it almost seemed too good to be true. I mean the idea of a quick conditioner applied before bed and to wake up like Sleeping Beauty, really puts in  perspective "I woke up like this." After the first use of using it, you instantly feel the difference of fresh beautiful ends. I definitely recommend to take the challenge, especially for you hard working gals, here's anotha' one to help keep you sleep good at night. Night night;)

G I V E A W A Y
 For anyone who missed it, the beginning of the month I introduced my
To add to the hype I'm also squeezing in a sample size version of Save the Day and While you Sleep. Follow the link below to find out how to enter before September 2nd when I announce the winner of this amazing good bag. Why wouldn't you?
Click to find out how to Enter
SaveSave
SaveSave
SaveSave
SaveSave