Here's a scenario:
my client sits in my chair asking me why the products I used in her hair didn't do her any good when she bought "the same products", at a supermarket down the road?
Product Diversion is when merchandise is sold in unauthorized places that was delivered there from uncertified distributors. It's a horrible practice that has fooled so many people into thinking that these products are safe to use. Read more on the Dangers of Product Diversion.
Dangers of Product Diversion
Behind the conveniency of running to a nearby drugstore and picking up name brand salon products, there's a huge underlining issue that all our clients need to know, and that's whether or not what they're buying is the true quality promised by their manufacturers. "The Dangers of Product Diversion," in common cases in which the purchaser buys brand name salon products at a drugstore, supermarket, anywhere that isn't a licensed salon or an authorized distribution center like Ulta or Sephora, that are tampered goods or expired products.
Here's a list of why these products are bad:
Counterfeit – fake copy
Watered Down Diluted Formulas
Expired Products
May include bacteria
May cause Infection and Irritation
May Lose Hair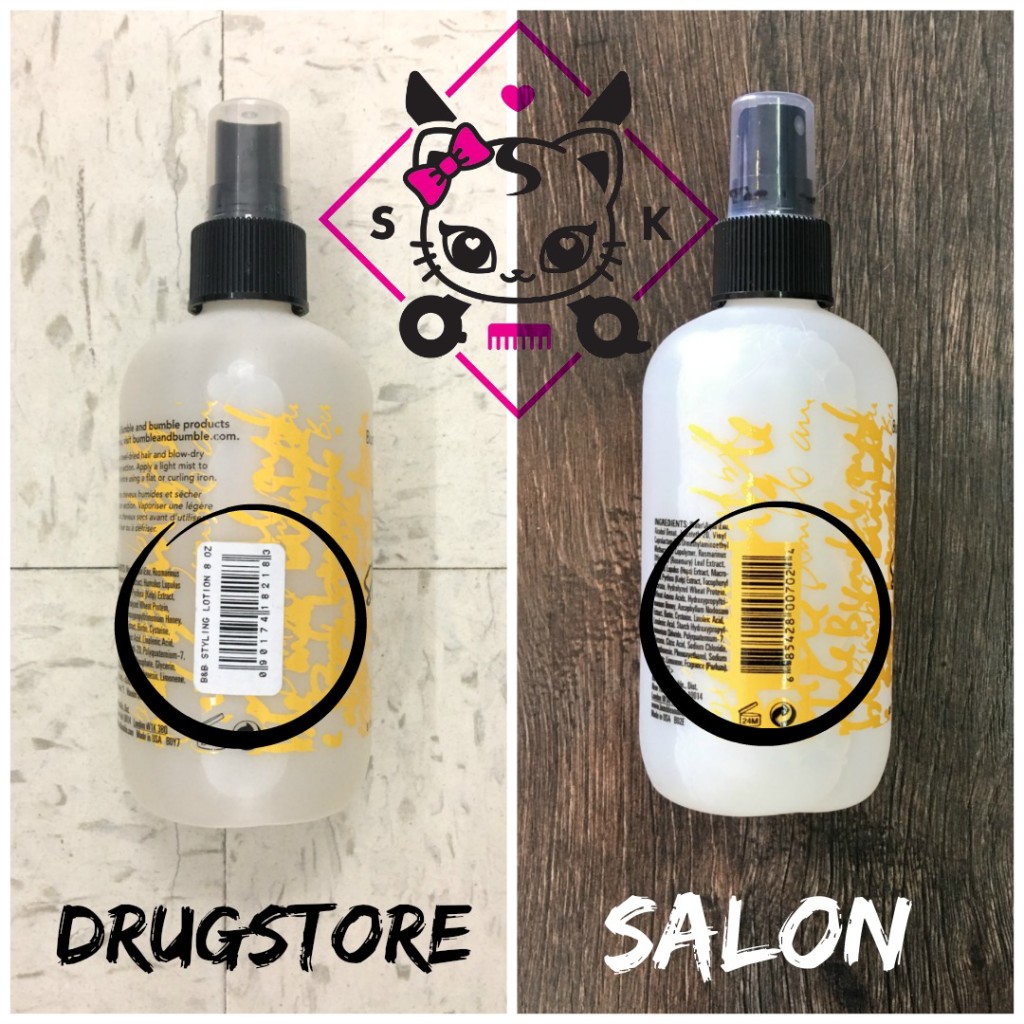 Spot the fakes like you Spot the Louis
Kind of like the underground ring of faux Berkin bags and other high end retail fakes, there's a dirtier scheme that's happening before our eyes and not in a backdoor alleyway. From left to right these heinous people buy actual salon quality products and take them to manufacturing plants that repackage and dilute them, then ship them to be bought out to stores that we all know and love that support this horrible cause.
Here's some Tips to Spot these Fakes Out:
No-no if they are sold outside of a Salon or Beauty chains like Sephora or Ulta

some products will actually say on it " Genuine Products Guaranteed Only in Salons"

Different Smell from regular Salon Product
Different Bottle from regular Salon Product
Different Pricing from regular Salon Product
Store does not carry the whole Brand Line
Price sticker placed over Barcode
I love companies like Moroccan Oil because they have a cool marking on their glass bottled products to differentiate from the counterfeits.
Final Word
For years the hair industry has been fighting this ongoing battle trying to support their brand, quality, authenticity, and reputation but as of now this gray market is still legal. Point-blank, to keep your ends nice and healthy, stick to what you know that's guaranteed to you by purchasing from a well known source which is your salon. Not only that, but you're supporting small businesses and everytime you buy you support education toward the salon for better techniques to serve you.
Hope you liked this post. Please check out the list of websites I've researched on with countless information on the Dangers of Product Diversion. Thanks again for stopping by at my post:)
Reference Links: