Last year I had the honor to head out to NYC again on behalf of J Bauman Salon to take an advanced styling class at the Bumble and Bumble University. A long awaited dream of mine since I was first introduced to the Bumble culture. I learned so much in just a short period of time. I really feel as if I gained a whole new eye to visualizing my map on styling for shoots, or even in the salon. Continue to read about my experience in the big apple at BBU.
"Drink in all type of culture – architecture, art, cinema, photography, literature.
The best hairdressers are a cultural sponge."
Bb. Global Artistic Director

Watching episodes of the City, Kell on Earth, and one of my fav movies, the Devil Wears Prada, has given me the vision of what I'd like to think living in New York City would be. Arriving here and heading down the Meat Packing District, walking through the aged old bricks that so many of my talented mentors have walked through before, has given me the power to hone in on their gifts. Each step getting me closer to the school's elevator, that leads to different levels of the school, such as the library, salon floor, and the auditorium, among other levels of Bumble.
Walking in was a nice spread of food for the am. Of course all organic and healthy, this was prepared for all the days, along with a nice filling lunch as well. Among the excitement of about 15 stylists with me, who also have traveled as far as the west coast, there was our 3 educators who were very much humble and welcoming, which created a calming atmosphere. It was almost like egos were left at the door and walls were down, all for the mission to recreate the foundations of style that we thought we knew so well.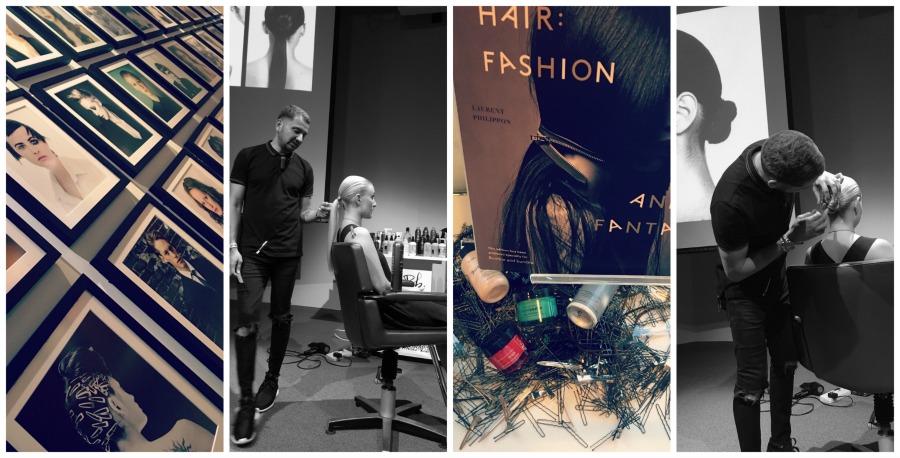 Day 1 : Meet and Greet / Ponytails & Chignons
The first day was fun. Getting to know each other, getting tours of the facility, and a brief history of how Bumble began, really put it in perspective of why I was so drawn to their culture. We sat in this large auditorium, that was like you would see in a college setting. Slideshows of   vintage pictures were compared to recent editorial fashion shoots done by Bumble, that prove that old techniques and styles were still being practiced today. With these techniques comes the tools of the trade, which go hand in hand with what the stylist knows and what we use, such as products that do what they mean to do.
With classes, we always start in the auditorium, talking about the plans for the day, checking out slides for referencing on the style we were doing, demonstration, and then up to the top floor to meet our live models, along with a mini photoshoot in the back, to take home for your personal portfolios. When you have time check their rooftop out it is a gorgeous view.
Coming from Styling I Class, we reviewed the importance of 2 main blowdries, the flat brush and the round brush. Both showing that blowdrying the hair's direction helps to create that seamless look.
Now you may think pony tails are easy, but it literally took me an hour to pull a sleek pony together. That's with not washing the hair, and breaking down the hair with products. Every move that was wrong, my teachers made it known, taking it down and starting over was another routine within these classes. They drilled me for every tiny frizz, movement, hand positioning, twist, to get pure perfection. There was no mercy, and I loved it. I wanted to work with the best and to train with their eye.
After learning the ponytail we transitioned to the chignon, which was my favorite time in the class because to put a look together for the first time so polished really made it click in my head that I can do this, and not always having to fall on soft romantic undone upos.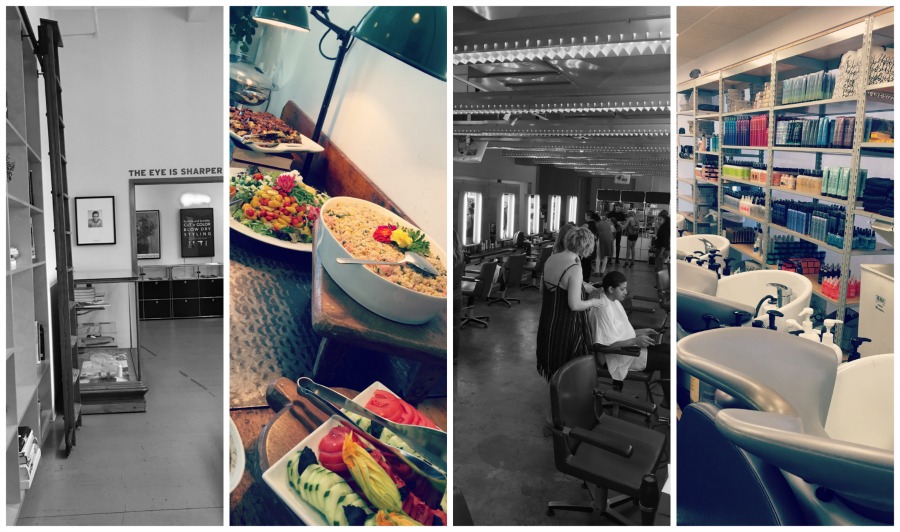 Day 2 : Double French Twists
Not one but TWO! In my whole career this was the hardest updo I've ever done. I thought learning it in hair school was enough, and here it is, front and center, in my face like a haunting memory, and now I have to do 2 on one head! It was like teasing 101 all over again, but of course, it's the house of Bumble, so let's throw this do up like it's an episode of Iron Chef. With much help from my educator, I learned the right way to tease the hair, to build a strong foundation for the pins to lay. Using my mirror as a a guide to check on my silhouette, balance is key when stitching this double french twist together.
In the end I've created a masterpiece that looked like it was from the pages of Vogue, not to toot my own horn, but it looked pretty dang good.

Day 3 : Graduation / Prove Yourself
For our last day in the classroom it was very bitter sweet. My classmates and I have gone through a bonding experience of breakthroughs and breakdowns, all with our mentors by our side. This day was graduation day where we went back up stairs for our final hairstyle of our choice. I came here to challenge myself so for my final updo I chose the Double French Twist. Taking my time, I wanted to relish in the moment of having these top stylists here with me,who've worked plenty of time on NYC Fashion Week, as well as numerous Editorial shoots. For my final review, they gave me an individual talk of what my strengths and weaknesses are, all critique thats been so helpful to build my skills.

Goodbye BBU
The Bumble and Bumble University was an amazing experience. For anyone thinking about going, just do it. I originally chose this class to be qualified to try out for the fashion week Bumble team, because you need to pass Product Knowledge, Styling I & II to audition. Since the trip, my styling has grown to a whole other level. Everyone notices how much more detailed I am, especially feeling more confident in executing more polished chic styles. Also, I absolutely love "Does it All" hairspray. A light hold hairspray that we used on all our live models. It was perfect for laying down frizz, hold as well as flexible styling, with ought flakiness. If you enjoy styling, and would like to hone in on your foundations as stylists, please check it out.

Click on this link below to head to the Bumble and Bumble Network Site so that you can find out the details on how you can be apart of the action.
Check out some more of my blog posts…
SaveSave
SaveSave