The mist of salt water in the air, boats in the harbor, and barnacles up the sea wall, sounds like a pirates life for me. Playing pretend of course never ended for this 29 year old gal, obviously. Earlier this month Gary and I took the challenge to meet up with his friends over at Ponce Inlet for my first time going fishing at the Jetties. I had so much fun and am willing to share what you need to know about Jetty fishing at Ponce Inlet.
"There's a fine line between fishing and standing on the shore like an idiot." -Steven Wright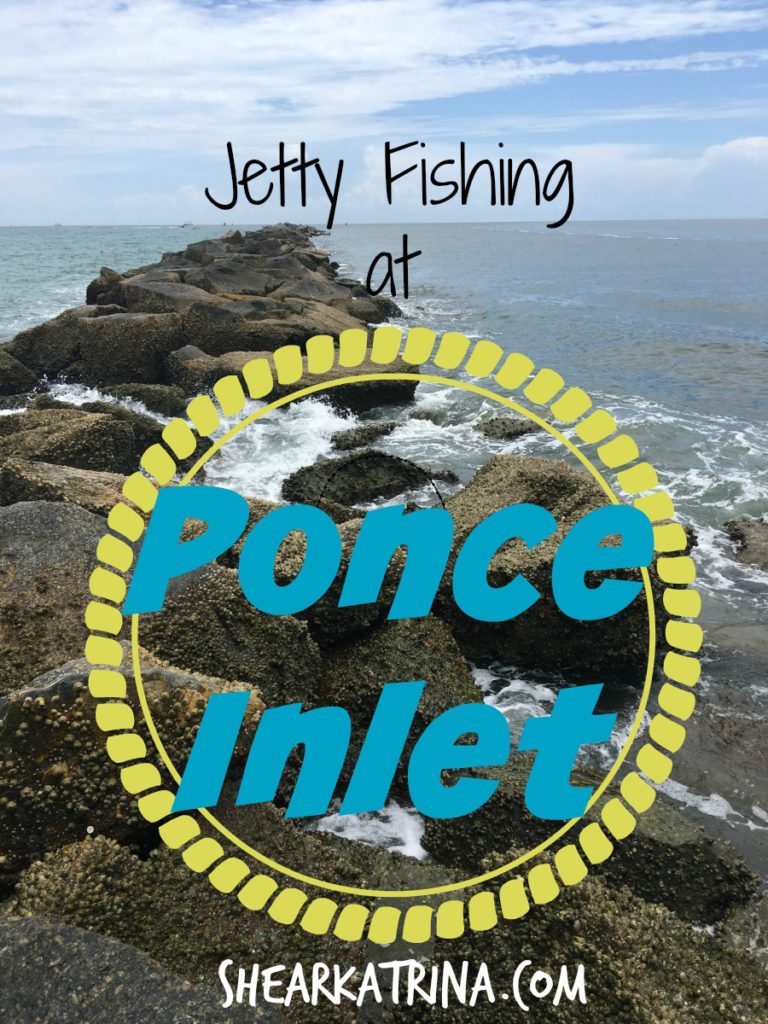 The Special Spot
I have special memories in my heart of my father bringing my brother and I fishing off the ocean docks. Putting these massive poles at the time in the water, we knew nothing except the minor pointers of bait it, drop it, and reel them in. It seems like yesterday, but now it's been ages since fishing at the pier. For a couple years, since owning our boat we've now and then have tried freshwater fishing over at Lake Eustis, but either we would all come out dry or it wasn't worth keeping the fish because freshwater fishing just wasn't trustworthy on how tastey or healthy the fish would be. Other than the Jetty's we've gone a couple times crabbing late at night, and that was really fun, it's just dangerous not having great eye sight. Also, the insects at night are horrible.
Gary's coworker, a wise old asian dude with mystical powers of always reeling in fish, knew a spot that he's shared with plenty of other coworkers who have gone with him, that have caught MASSIVE fish, supposedly really tastey ones as well. These guys also promised Gary that he would be another veteran reeling in the "big one," and adding to the collection of fish stories.
Of course, Gary needs his partner in crime, so here I go on this adventure to this spot everyone's talking about.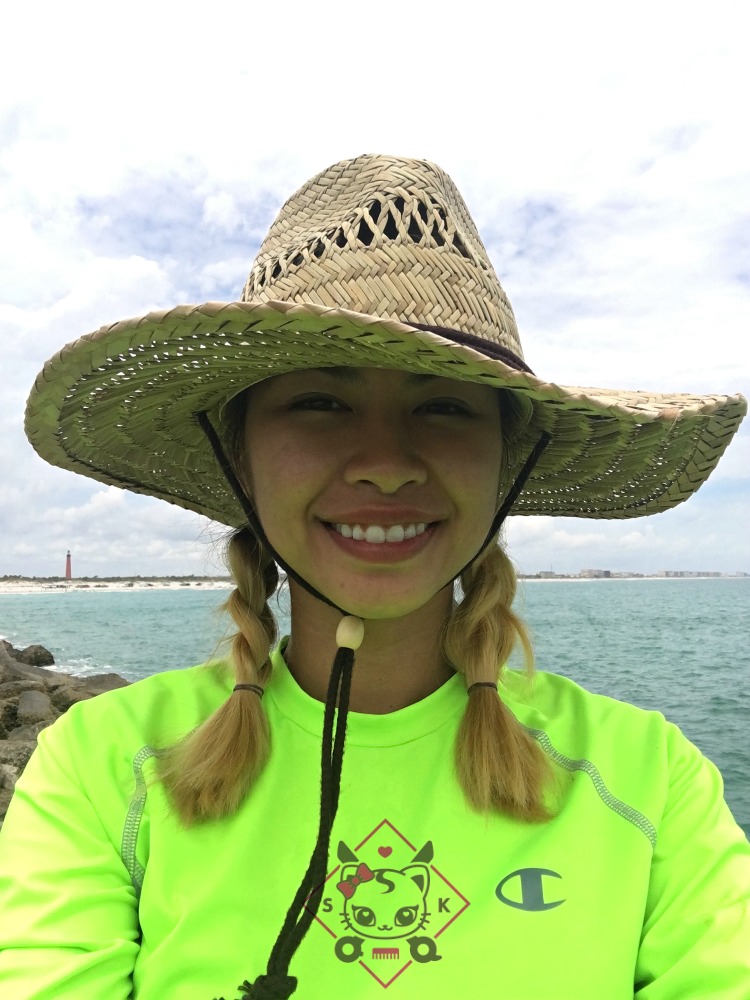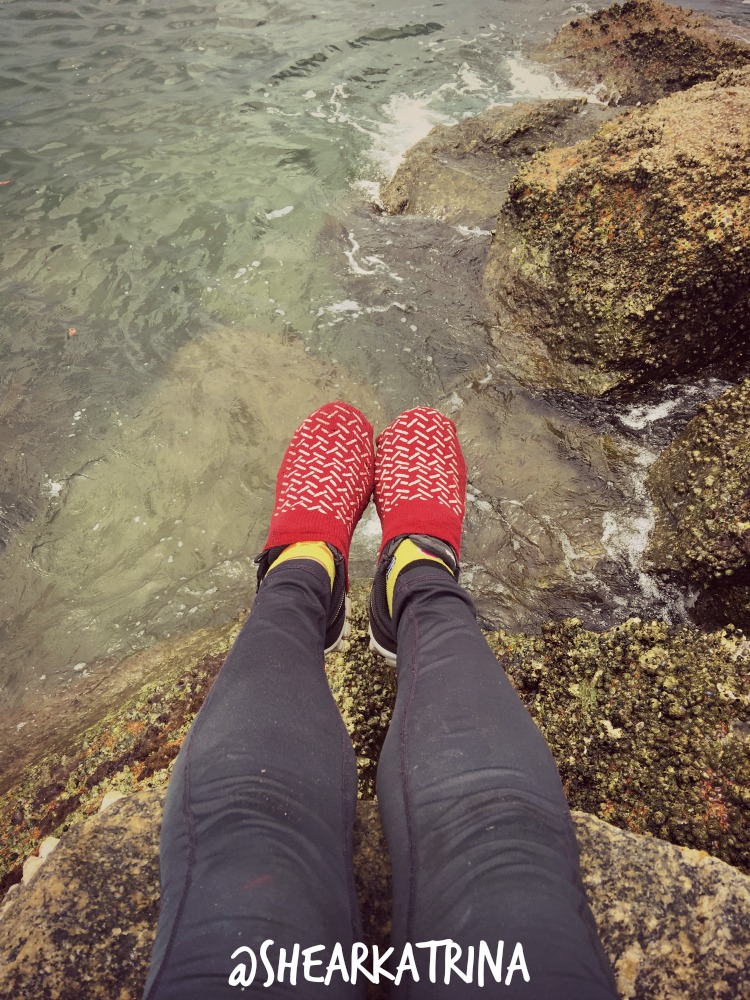 5000 S. Atlantic Ave.,  Ponce Inlet
386-248-8072 
Lighthouse Point Park
Equipped with what we thought we knew we needed, we headed out early in the morning toward Daytona Beach. Directions led us to Lighthouse Point Park, a great recreational 52-acre park, where if you don't like fishing you could either walk the trails, hide from the sun at their pavilions, or hit the beach, then come back to base camp to shower or for bathroom breaks.  There is a $10 fee for each vehicle at the park, or you can buy an annual pass that's $20, which is well worth it.
From the parking lot there's a small trek to head out to the end of the pier where beyond the concrete is rocks extending to the Jetty farther out into the ocean. Sharp slippery rocks, off  balance from carrying a pole in hand and a backpack full of nasty prickly crabs, risk of waves pushing me off for me to be swept away forever – is this worth it!?
Danger should be my middle name, or stupid because this was pretty difficult climbing these rocks. Most of the guys could balance themselves and slowly step across, but for me, trying to keep up was hard. I was scared, I didn't like how wet the rocks were, and frankly, I'm a delicate creature who needs to be attended to. Before walking out on the rocks, Gary's coworker, which by now you might envision an old asian man with a Fu Manchu, gave us a tip to wear old socks over our water shoes, which was a brilliant idea for they became great grips for the rocks. Not the best, but better than what we had. My tip is to step on top of the barnacles because that gave me a little more resistance to the slip.
I finally met the guys midway along how far the rocks go. I was thankful that they stopped because I was  nervous when I spotted fishermen at the very tip of the jetties. We unpacked on top of these sturdy flat top slabs of rock where we gathered our bait, backpacks, and other fishing essentials.


One Fish, Two Fish, What Fish
Looking across the harbor watching  boats go by, families waving at us atop our spots, waves crashing through the  caverns underneath us ,while little crabs walk by catching anything that washed ashore, was pure bliss.  Pictures of the lighthouse reminded me of Wuthering Heights, a hopeless romantic book that I only wish my Heathcliff, Gary, could feel within ripping our crab bait in half alive among the stench of guts in the air. Yes, a romantic date at the beach for us indeed.
BUT to the point of why we risked being out there. Underneath these treacherous waves, of at the time, 2 foot swells, you can catch Tarpon, Spotted Seat Trout, Snook, and Red "Drum" Fish, among other sea creatures. Prior to heading out to cast, make sure you register a Saltwater Fishing License, I bought mine for $17.50 at Walmart.  Another great tip would be to find out Florida laws on what season to catch certain fish, and what size the fish should be to take home. Click the link below for more details on that, the link will bring you to the official Florida Fish and Wildlife Conservation Commission site.
King of the Rock
After countless of tries for myself at the Jetty's, I've given up hope that I myself will one day be a pegged legged old sea hag telling tales of great Red Drum giving me that good fight that caused me to lose my one true love Gary, to be left with my obnoxious shoulder perched  parrot "Gary," that I've named him after. That day, and another day I did not catch anything, just a few bites every now and then. Although my husband and his brother have been there a few times now and have caught a good size of Red Fish. Too large though to take home, they could try, but that $500 fine really isn't worth it. Their pride though is restored and I believe I could be that true bad luck out there. Old Fu Manchu, the wise man of the Jetty's at Ponce Inlet, still remains King of the Rock as you will see him there from ashore catching one fish after the other, and still lives to tell the tale.
For your Trip to the Jetty's at Ponce Inlet
Here's a list of What to Bring:
Female Blue Crab

supposedly the females work better

Spiderwire Fishing Tackle Backpack W/ 3 Medium Utility Boxes SPB006

Has a cooler, pack for a small tackle box, and spots to anchor your poles to you so you can climb the Jetties hands free

Size 4/0

Mustad UltraPoint Demon Perfect Offset Circle 1 Extra Strong Hook with Kirbed Point (Pack of 10)

40lb Braid
The Pole I Use , a Great Starter Setup, excellent reel, okay pole

Penn Spinfisher V 4500 Fishing Rod and Spinning Reel Combo, Inshore, 7 Feet, Medium Power

The Reel Gary Use size 4500
The Pole Gary Uses size 76 MHF
50lb test Flourocarbon Leader Line (abrasion resistant for the sharp rocks)
Hat to Keep off the Sun, Suggestion:

YCHY Folding Fishing Hat 360° Solar Protection UPF 50+ Unisex Flat Sun Caps Removable Neck&Face Flap Cover Hats for Hiking,Fishing,Hunting,Backpacking,Cycling, Camping,Outdoor Sports

UV Long Sleeved Shirt Huk Ladies Kryptek ICON Performance Long Sleeve Fishing Shirt

SUNSCREEN!!!!
For some good Florida fishing places, message me below.

SaveSave